A Cyberfeminist Manifesto for the 21st Century was a project in multiple media that gave vivid expression to the emerging political position of cyberfeminism, which saw new technology as an opportunity to disrupt society's patriarchal norms, and to have fun doing it.

The manifesto was authored in a mode that spoke to the conditions of early network culture: collaborative, plagiaristic, possibly drug-fueled, and pornographic. The resulting text was distributed by fax, snail mail, paste-up poster, billboard, and online post, adopting the techniques of propaganda as an art practice. Through its circulation, it began to generate new versions, spinoffs, and critiques, giving rise to new worlds for artists and theorists to inhabit.
A billboard based on the manifesto shown on the side of Tin Sheds Gallery, Sydney, in 1992.
Photo: VNS Matrix.
"THE VNS MATRIX EMERGED FROM THE CYBERSWAMP DURING A SOUTHERN AUSTRALIAN SUMMER CIRCA 1991, ON A MISSION TO HIJACK THE TOYS FROM TECHNOCOWBOYS AND REMAP CYBERCULTURE WITH A FEMINIST BENT"

– VNS MATRIX FOUNDING MYTH
The Australian collective VNS Matrix wrote A Cyberfeminist Manifesto for the 21st Century in a stream-of-consciousness writing session that channeled critical, feminist, and pornographic texts.
Read FEMINIST WORLDBUILDING IN THE AUSTRALIAN CYBERSWAMP by Claire L. Evans on Rhizome
"We are the future cunt," the manifesto proclaimed, bringing slime and sex and an anarchic sense of humor to the sterile, supposedly male-dominated world of the computer.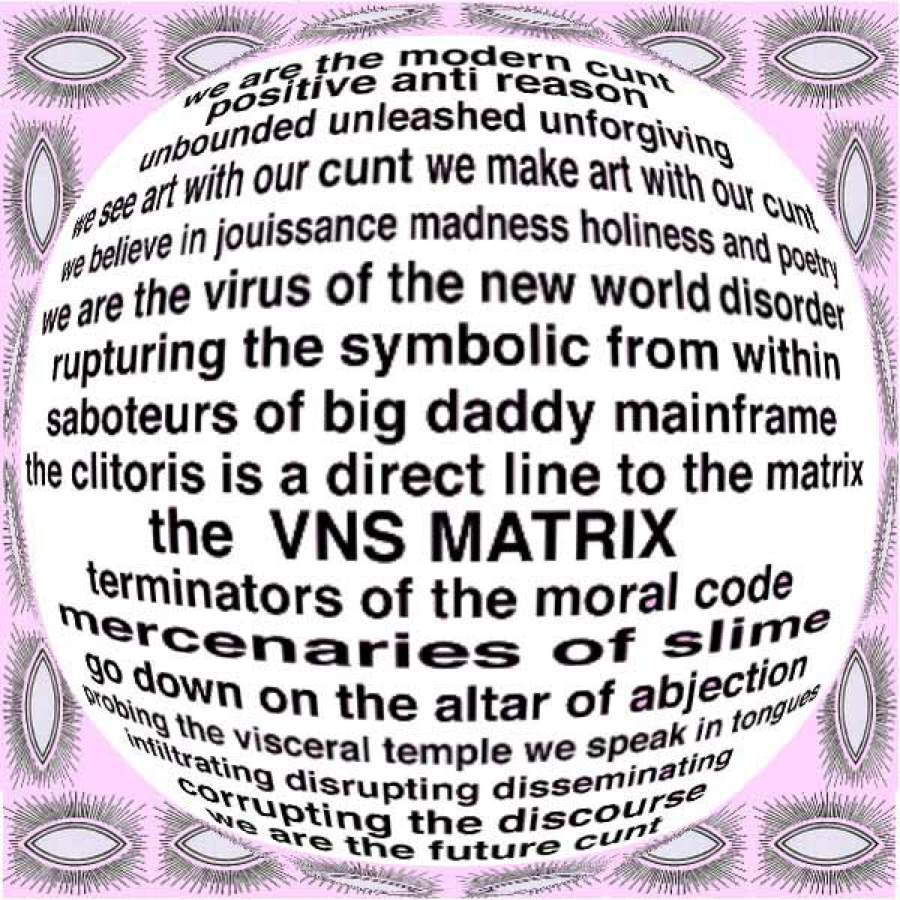 Digital image of the 1991 manifesto. This version was used as a wheatpaste poster.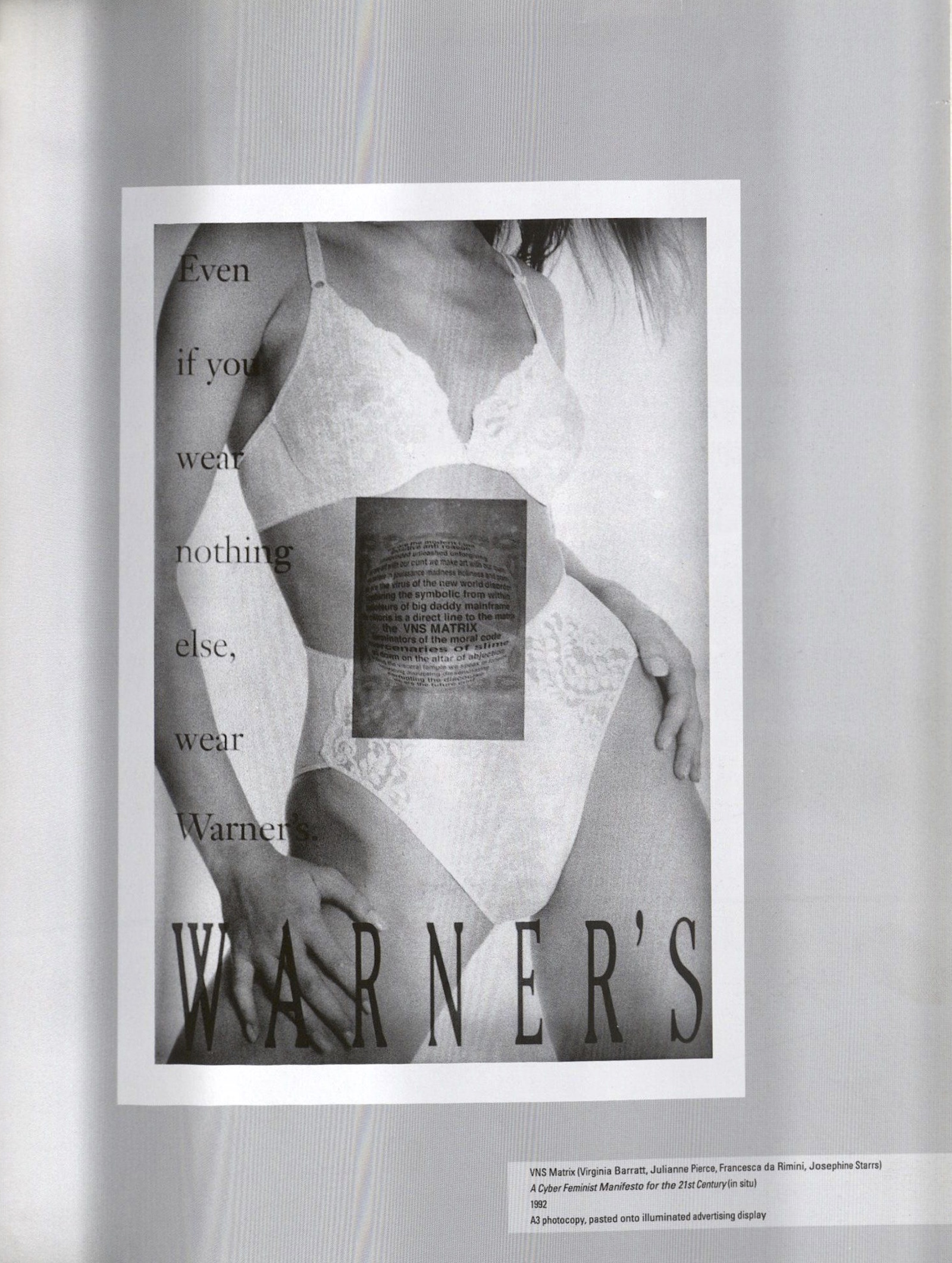 A Cyberfeminist Manifesto for the 21st Century pasted up in an Australian city, probably Sydney. From Art + Text no. 42, May 1992.
The text circulated on wheatpasted posters in Australian cities and was sent by fax and mail. It was posted on email lists and shared on LambdaMOO, the text-based virtual world popular on the early internet. It went viral, and was translated into multiple languages and reprinted in numerous magazines, inspiring many artists and fueling the early 1990s conversation about cyberfeminism.
"LOTS OF COMPUTER TECHNOPHILES … JACK INTO THE MACHINE AND WANT TO FORGET ABOUT THE BODY, TO REJECT THE MEAT OF THE BODY. IN OUR WORK WE'RE NOT FINISHED WITH THE BODY, THE BODY IS AN IMPORTANT SITE FOR FEMINISTS."

– JOSEPHINE STARRS, 1992
As VNS Matrix were writing their manifesto, theorist Sadie Plant had simultaneously coined the term "cyberfeminism" in the UK. Drawing on thinkers such as Donna Haraway (author of A Cyborg Manifesto) and Allucquère Roseanne Stone, cyberfeminism grew and accommodated many different feminisms, not only the irreverent, slime-drenched gamer feminism of VNS Matrix.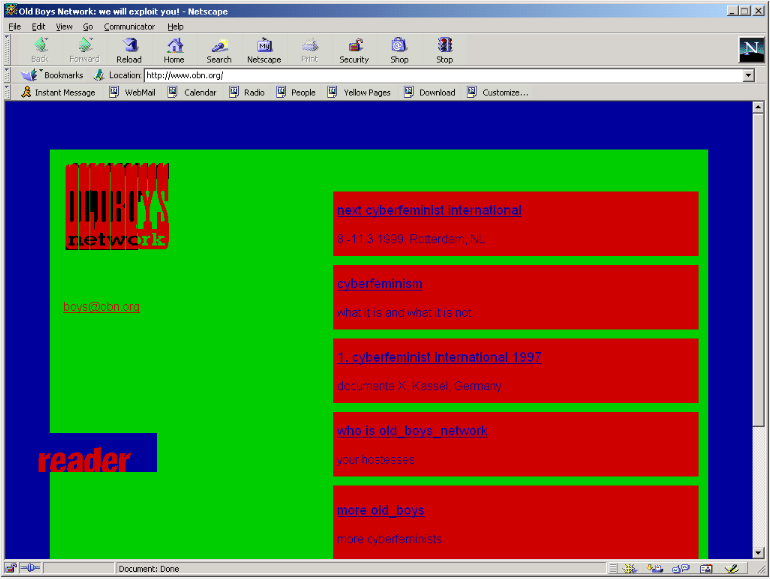 Screenshot of 1999 archive of Old Boys' Network website.


The VNS Matrix collective (Josephine Starrs, Julianne Pierce, Francesca da Rimini, and Virginia Barratt) had a wide-ranging practice that included further texts and billboards, as well as videos, installations, and computer games. They worked together most actively from 1991 until about 1997, and occasionally reunited for specific projects thereafter.