Heath Bunting's Communication Creates Conflict was an online platform through which users could send messages in a range of formats and networks: by fax, postcard, or sign held in a Tokyo subway station. Each of the services offered by the work opened up possibilities for surprising and unexpected social encounters.

In using the net to stage an intervention in public, urban space, Communication Creates Conflict anticipated the role the network would play in shaping cities, and imagined possible roles for it outside of rampant commercialization.

"networking fills many hungers"

–Heath Bunting
Communication Creates Conflict extended Heath Bunting's long-standing interest in repurposing government- or corporate-controlled communications channels (such as radio or street advertising) to create moments of social connection, playfulness, openness, and resistance.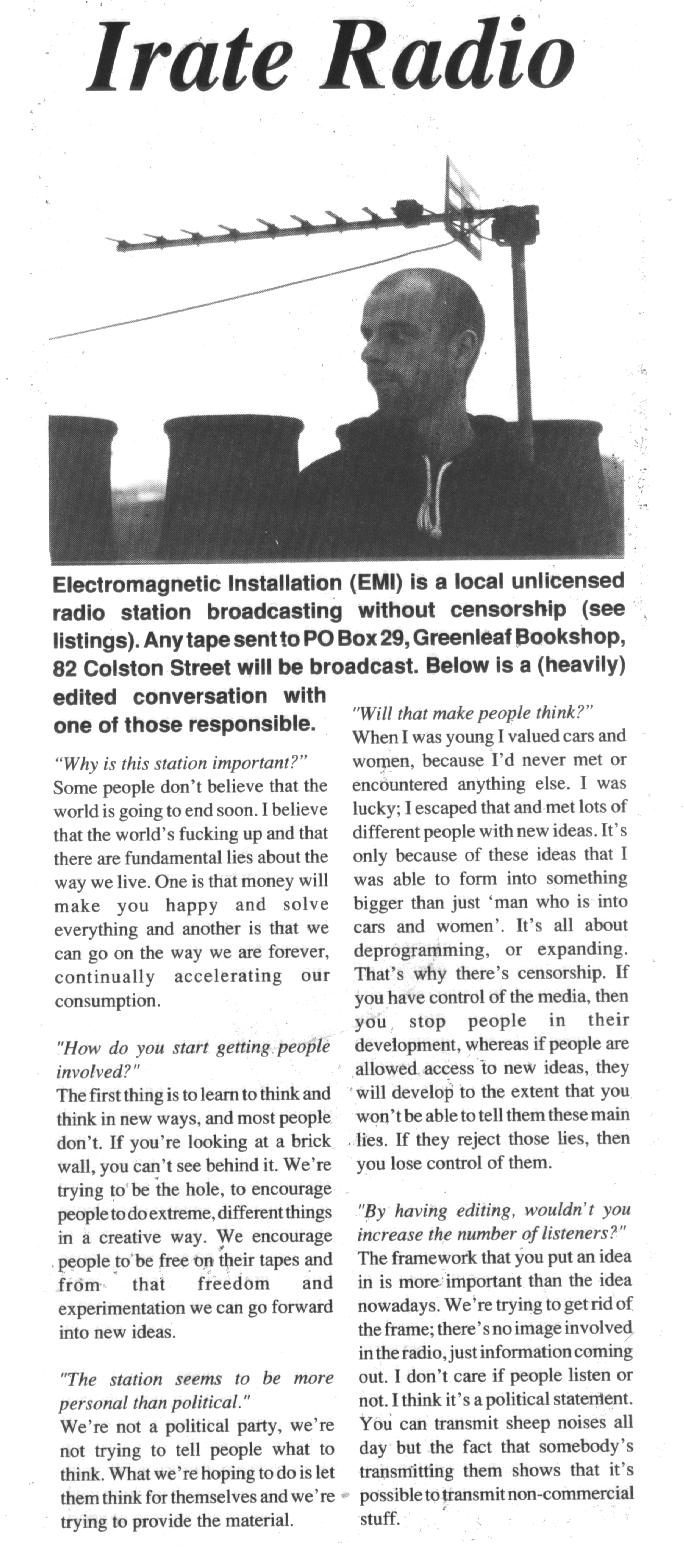 "during my late night tactical excursions
of flyposting raids on planet earth
i often raided the discards of large corpse
often finding computer systems
these always worked as they were thrown away
because they were no longer WANTED as opposed to NEEDED
so with salvaged manuals and collected software
i set to production"

—from the postscript for Communication Creates Conflict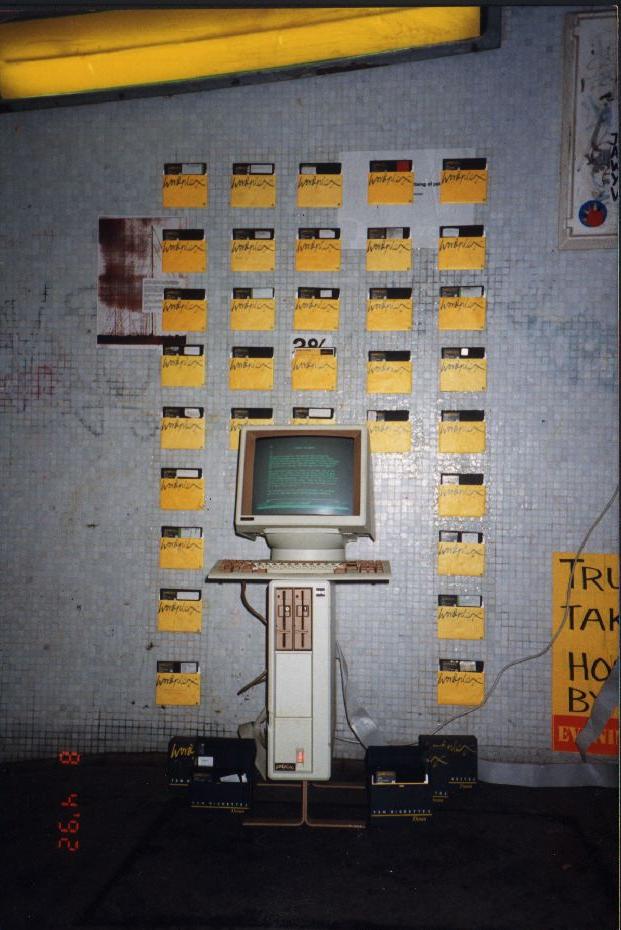 Image from irational.org.
In 1993 or so, Bunting set up a bulletin board system (BBS) under the name cybercafe. Run from a recycled system in his kitchen with the help of collaborators including Rachel Baker, Marc Garrett, and Ivan Pope, the BBS could be reached by dialing the London number 071 240 3332. Anarchists, hackers, and artists posted messages that included poetry, event promotion, and information about creating computer viruses.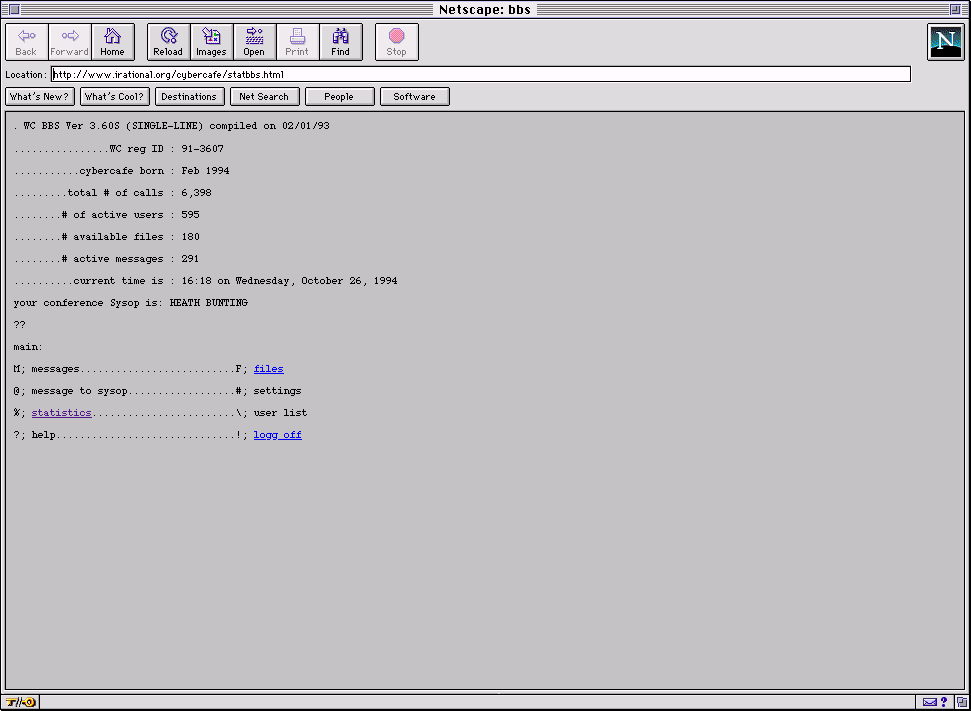 Read "Between the Net and the Street," an interview with Rachel Baker.
At the same time, Bunting made a number of artistic gestures that considered the internet as infrastructure, rather than formal medium. One project that highlighted the internet's materiality was a dumpster in central London to which people could "upload and download old hardware," by sending their junked computers to British Telecom Skip, Bankside, London SE1.
"With people in informal residential situations, like squats, it became clear that one could train a postman to deliver mail to an informal address such as 'the yellow trash can next to the one with trash in it' and that outboxes could be made into inboxes." —David D'Heilly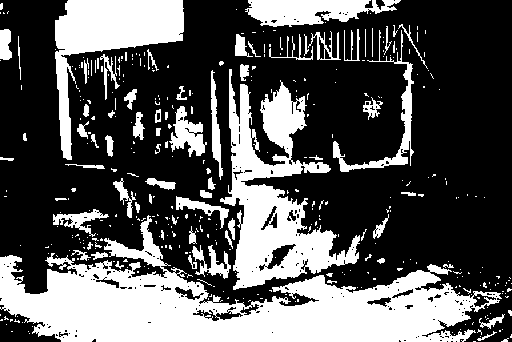 For another project, Bunting published a call for internet users to call the pay phones at Kings Cross Station in London, distributing the announcements via the alt.cyberpunk, alt.artcom, artnet, and Cybercafe BBS. "We had a great time running around answering phones, chatting amongst ourselves and such like, in an atmosphere of 'freedom and celebration,'" reported Bunting.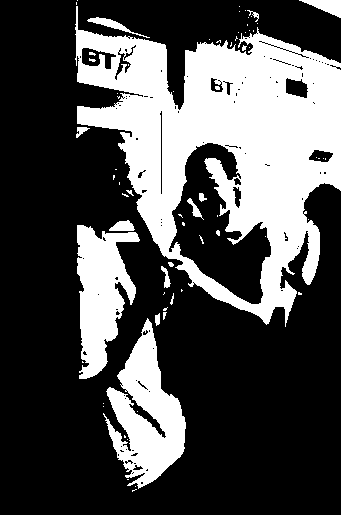 Curator David d'Heilly invited Bunting to participate in a project with NTT ICC in Tokyo in 1995. Prior to opening a physical venue, ICC staged a series of events exploring the idea of a "network-style museum," which launched in 1991 with an project called "The Museum Inside the Telephone Network." While that event imagined the entire NTT phone network as a museum, the 1995 iteration shifted focus to the internet, and included an online exhibition.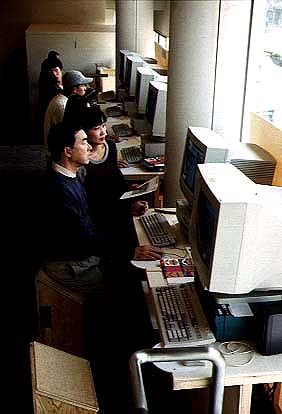 Visitors to "NTT InterCommunication '95: The Museum Inside the Network"
For his contribution to the series, Bunting created Communication Creates Conflict, a website offering messaging services at no cost. Visitors to the website would encounter a poetic text about communication. Hyperlinked fragments of words led from there to a range of interfaces where they could submit their messages, which would be delivered via postcard or fax. They could opt to have their message displayed on a sign held up in the train station or airport, or printed on a leaflet and handed out to passersby.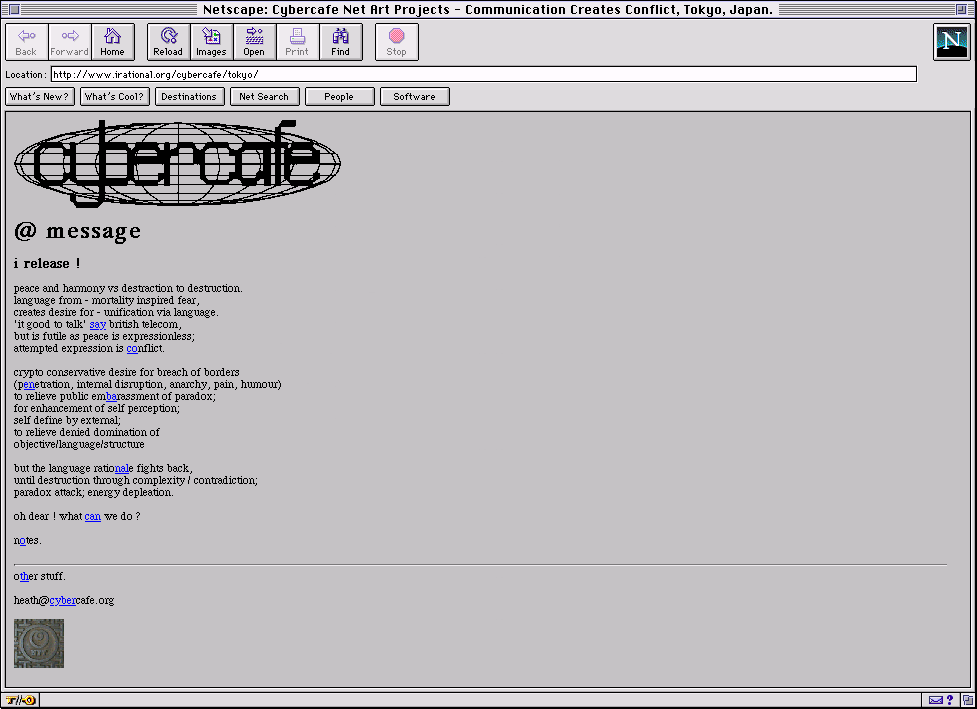 The sent messages were recorded on the site. Users' notes range from tentative tests ("what is this site about?") to more heartfelt confessionals ("I want to meet you/and see the sub way through your eyes").
If some of the experiments in Communication Creates Conflict offered a possibility of connection, others suggested that this could be a false promise. One page offered users a Mad Libs-style template, from which they could compose an email made up of phrases selected from drop down menus. Users without email addresses were invited to make use of a "junk mail server"—a trash can in a Tokyo subway.
The accompanying catalogue notes that Communication Creates Conflict enjoyed an enthusiastic public reception from many participants. With its "demystification of electronic networks / mystification of conventional networks," the project stands today as a prescient experiment with the materiality and lived experience of the net.
Heath Bunting is a British artist based in Bristol, UK. His work focuses on the development of open democratic and communication systems and social structures on the internet and in the public space. He has has worked in graffiti, performance, intervention, pirate radio, fax/ mail art, and BBS systems to become an active participant in the explosion of the internet. Bunting's works have been commissioned and exhibited at a range of venues including: New Museum, New York; Tate Modern, London; transmediale, Berlin; documenta X, Kassel, Germany; The Banff Centre, Canada; Lovebytes Festival, Sheffield, England; Art.Teleportacia, Moscow; ICA, London; and The InterCommunication Center (ICC), Tokyo. He has lectured at many universities such as: University of West of England, Bristol; Goldsmiths, London; University of Westminster, London; Konstfack, University College of Arts, Stockholm; Mertz Academy, Stuttgart; and Royal College of Art, London.