Nine Eyes of Google Street View is both an archival project and a conceptual meditation on the state of photography in a time of automated imagemaking on a massive scale.

In 2008, Jon Rafman began to collect screenshots of images from Google Street View. At the time, Street View was a relatively new initiative, an effort to document everything in the world that could be seen from a moving car. A massive, undiscerning machine for image-making whose purpose is to simply capture everything, Street View takes photographs without apparent concern for ethics or aesthetics, from a supposedly neutral point of view.
Rafman conducted a close reading of Google Street View and began to isolate images from this massive database, publishing them on blogs, as PDFs, in books, and as large C-prints for gallery exhibition. In so doing, he reframed them within longer histories of photography and painting, raising questions about the meaning and function of these images and their implications for artists and image-makers.

"With its supposedly neutral gaze, the Street View photography had a spontaneous quality unspoiled by the sensitivities or agendas of a human photographer."
Google Street View was introduced as a feature of Google Maps in 2007. In the street view that we know today, a user can drop in on a given street almost anywhere in the world and explore stitched together panoramic images. In 2007, Google offered only a selection of streets in the United States and slowly expanded their coverage over the years.
Street View images are captured by a fleet of cars outfitted with a pole with 9 cameras at its top, which photograph their surroundings—hence Rafman's project title, Nine Eyes of Google Street View.
In 2008, Rafman began to screenshot and collect scenes captured by Google Street View's cameras. He first released a selection of Google Street Views as a pdf that year at googlestreetviews.com. He soon followed it with two more volumes.
Rafman later began to keep an ongoing Tumblr blog where he would post his Street View compositions, and published a widely circulated post about this body of work on the blog ArtFCity (archived here).
Rafman was interested in the particular relationship between Google Street View's cameras and their surroundings. Unlike in the photographic tradition that precedes it, Street View Photography is not concerned with what is photographed and how it is framed.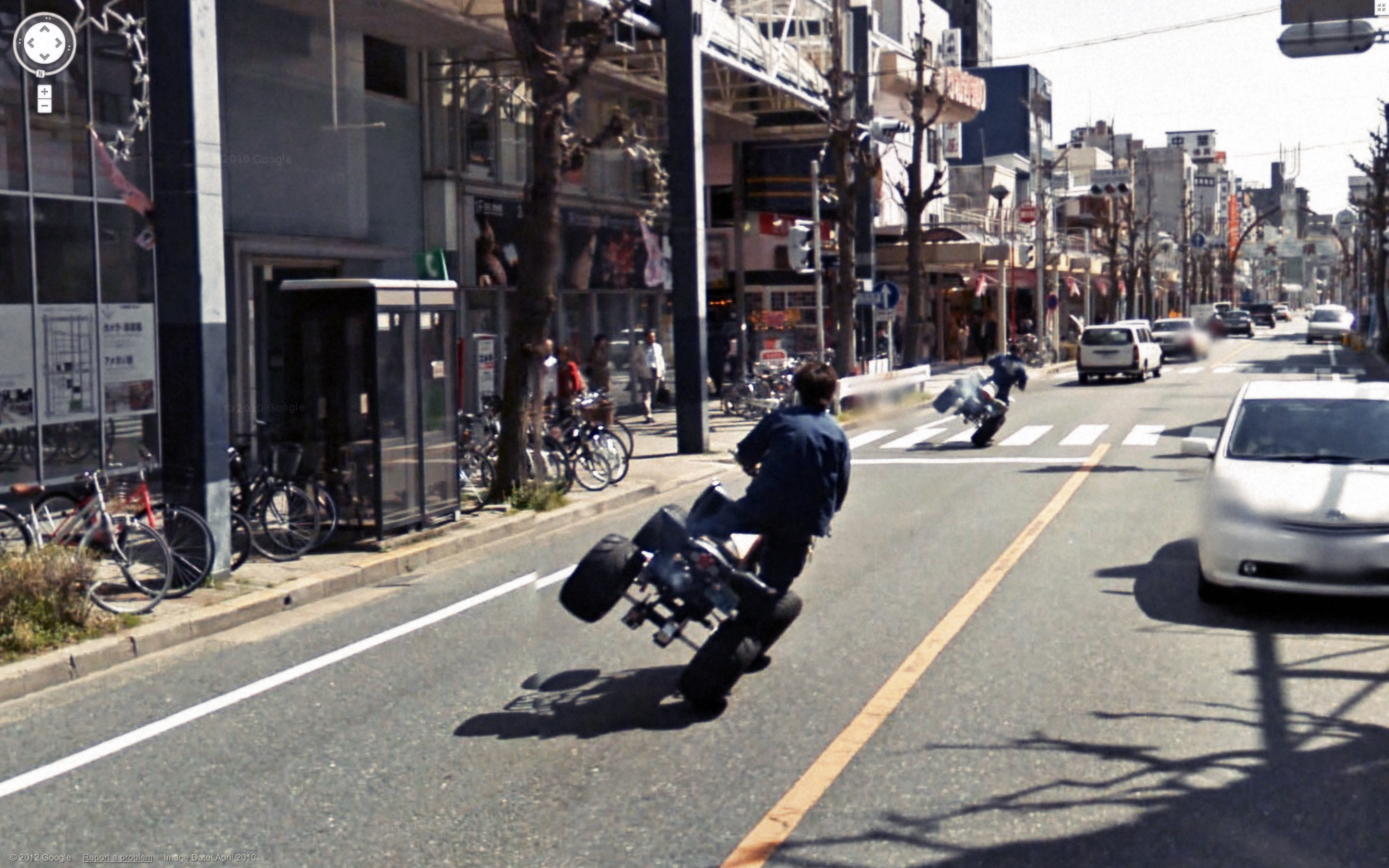 Instead, Google's Street View photography aims to simply capture information in order to, as Google's mission states, "to organize the world's information and make it universally accessible and useful."

"Street View photography, artless and indifferent, without human intention, ascribes no particular significance to any event or person."
Rafman's screenshot compositions reinsert meaning to these functional images through the artist's simple act of selection, and through their remediation as artist's books and prints.
Some of Rafman's selections recall early street photography. He frames unaware subjects who happened to enter Street View's field of vision, highlighting and indulging in the unsettling ethical implications of making images of individual people's lives "accessible and useful" to all users.

Other compositions made reference to classical history and landscape painting, or were totally abstract. Some isolated glitches in Google's imaging, calling attention to its materiality.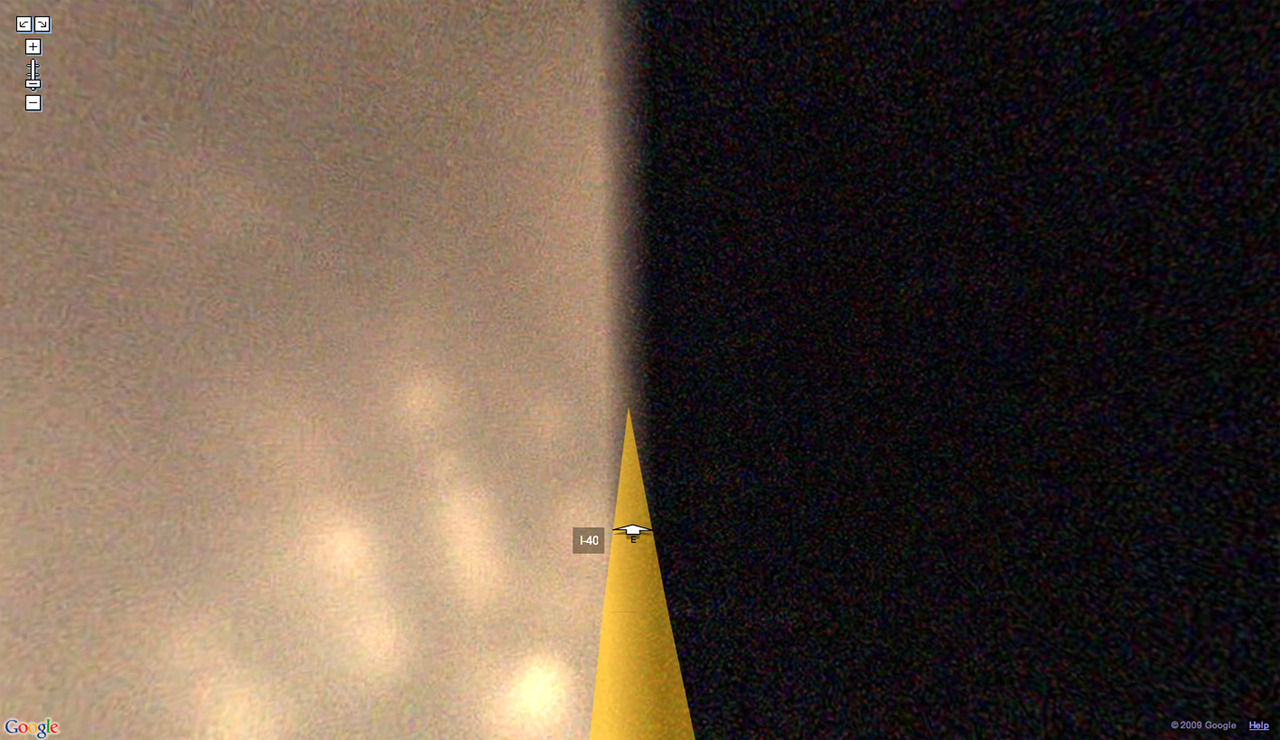 By restoring some sense of meaning to these images, Rafman restores the authoritative presence of the photographer, narrativizing the lives of Street View's subjects and putting them on display.
Street View users, to some extent, also play this role, inevitably finding meaning and narrative and intention in these images captured and synthesized by a near-automated system.

"This very way of recording our world, this tension between an automated camera and a human who seeks meaning, reflects our modern experience."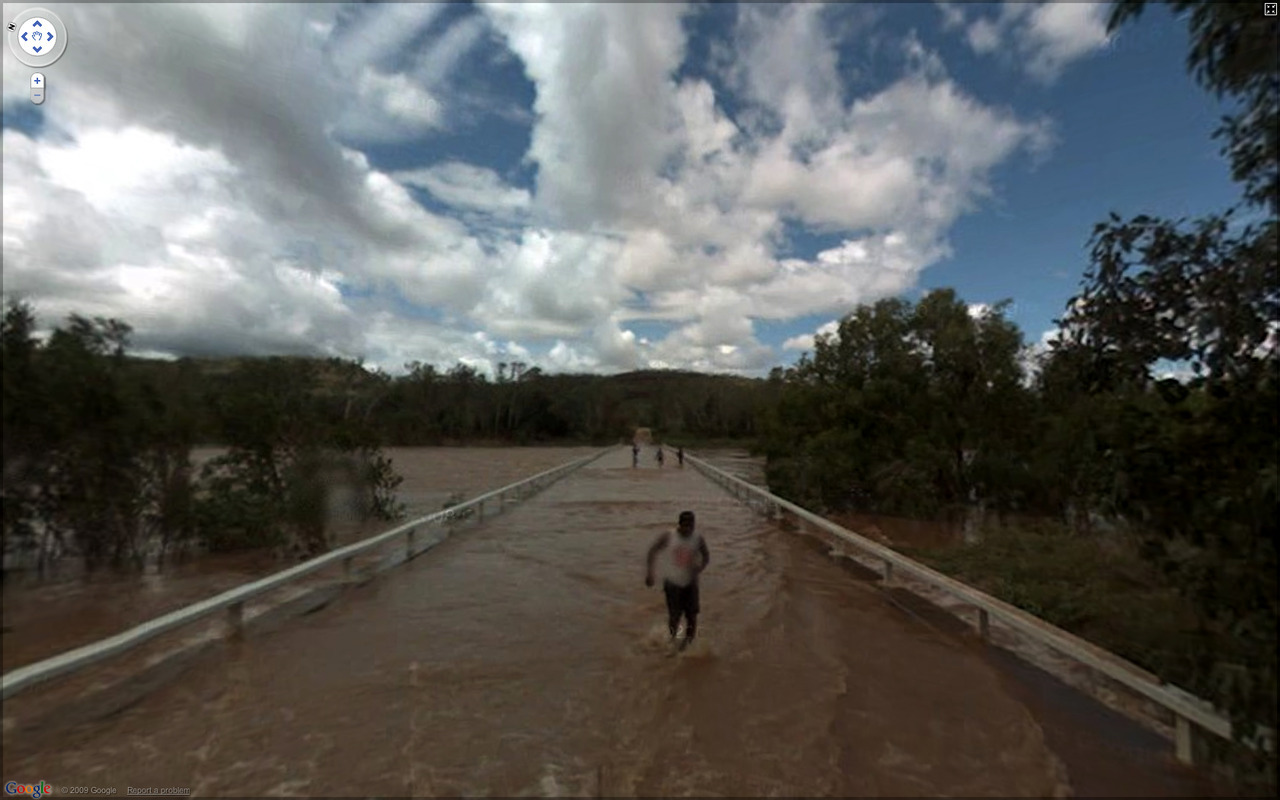 Rafman exhibited prints of Nine Eyes of Google Street View images, both in book form and as large prints for gallery exhibitions, including the 2009 New Museum exhibition "Free." By placing the images in an art context, Rafman presciently called into question the role of artists in relation to the rise of automated forms of cultural production.
Highlighting the gap between the machinic and subjective approaches to Street View images, Nine Eyes of Google Street View considers what it means to document the world while refusing to take any ethical or aesthetic position in relation to it—and whether such a refusal is possible at all.
"It was tempting to see the images as a neutral and privileged representation of reality—as though the Street Views, wrenched from any social context other than geospatial continuity, were able to perform true docu-photography, capturing fragments of reality stripped of all cultural intentions."